As a business owner, you must go beyond building a product or service. You need to sell what your product or service allows your customer to do.
Apple grew their business by using this very simple method, with the IPod.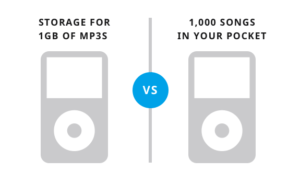 Whilst the feature was 1GB of storage, they chose to focus on the benefit, that is what the IPod allowed their customer to do, the benefit; 1,000 songs in your pocket.
And the result was the birth of the 'Apple IPod Silhouette' campaign: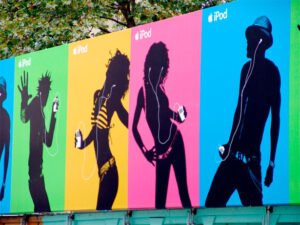 Apple ran with this campaign for five years, and it has proved to be one of the most effective marketing campaigns in decades.
The campaign became the tipping point, which put Apple on the map and pointed the business in a new direction.
The simple but powerful imagery of the free-spirited dancers in these ads helped develop the Apple brand around the world.
By choosing to centre their marketing campaign on the benefits of the ipod giving the customer 1,000 songs in their pocket, as opposed to the feature of the product which is 1gb of storage, they provided real value to their customer.
This campaign shifted the focus from purchasing the device to purchasing an emotion – from marketing a feature to a benefit.
Of course this is not a run-of-the mill example; we are talking about Apple after all. The iPod catapulted the company from a computer business to an entertainment brand with this groundbreaking product.
We don't all have such incredibly ground breaking products or services that we are marketing.
BUT
It is still possible to use Apple's simple strategy.
What is it that your product or service allows your customers to do? What is the problem that you solve for your client – focus on the benefit that you offer your client – Communicate to resonate.
So what is the difference between a feature and a benefit?

A benefit, as seen in the IPod example, solves a customer pain point, the benefit offers a solution to a problem. Benefits are the changes your product or service provide to the customer's life.
Features are the attributes of your product or service. Technical specifications, ingredients, and methods of manufacturing are all features.
The simple truth is that people generally do not care about your features, they want to know how their lives will be improved after doing business with you.
Marketing your benefits to your customer is not something you can magically wake up one morning and decide upon. It is a process which takes time. Once you have decided upon some benefits you will probably want to test them out on your clients.
There may be some back and forth over which 'benefit' sparks an interest and resonates with your customer. In some cases, if you have more than one target audience, you may end up with two or three features for your product or service.
So how do you get started on the process of articulating your benefits, in order to reach your clients on an emotional level?

If you haven't already, begin to develop a 'learning culture,' within your business. Train your team, especially those who are client-facing, to get closer to your customer and I don't mean sit on their lap at the next networking event!
Get to know what they do and why, what motivates and influences their decision making process? Put yourself in your customer' shoes. Seek their feedback and input into what you do and then apply your learning's to your business.
Begin to really understand your customers, what they are truly looking for, how can you nurture them through their buying process and what do they need from your business to solve their problem.
And…as I don't want to be the one 'preaching from the pulpit,' let me ask you.
What is the problem we can solve for you? If you signed up to our blog, I would love to know what motivated you…
Are you seeking assistance with digital marketing or looking for a more developed marketing strategy for your business or perhaps you are looking for external marketing expertise to help with a growth phase or maybe you are just looking for flexible cost effective marketing help?