Speaking to business owners all day, everyday as I do, I often hear it said that 'everyone is my target market.'
But the fact is, this is not the case, especially if you are a small business with limited resources and minimal marketing budget!
As a business owner it is integral to your success that you work out where to spend not only your time and energy but also your marketing dollars!
Who loves what you do? Who can you help? Who has the problem you can solve? Who is your right customer?
By honing in on your key target market and developing your buyer personas you really begin to understand WHO your client really is and what service they require from you and what information they need and when.
Knowing your buyer personas will also help you to create a "they get me" moment. To move people to take action, you need to understand why people buy from you and focus on the challenges they your business can help them overcome. By understanding people at a deeper level, by taking an 'emotion centred' approach, the customer can more readily identify with you and your business and feel that you really do understand them – that you care. How can you focus your messaging and communications on how the customer will benefit from your service if you don't take the time to understand, really understand your customer? Every day people are exposed to around 5000 marketing messages!!! Make your communication one that they will remember, that resonates that inspires them to take action. Be the business that makes an impression – create a moment that allows your customer to feel the value and not just see it…
In your business you may be passionate about workplace health and safety and your goal is to educate the universe on the risks associated with not having a WHS process in place. To prevent people from injuring themselves in the workplace is indeed a noble cause, but if you are in the business of developing workplace safety processes, you also need to make a profit from spreading this message…
So, whilst everyone can certainly get value from your company and message – not EVERYONE is going to be willing to
1) purchase your services
2) pay what you are asking
3) commit/sign on the dotted line and make a payment – $$$ now!
Therefore, you need to determine WHO your ideal prospect is.
Your ideal customers can be represented through 'buyer personas' which help you to understand your customers (and prospective customers) better – their decision-making process is, how much information they need to be persuaded to purchase, how long will this take – and are they worth all the effort e.g. what is the clients budget/can they afford you. You will be able to develop your content; your marketing messages to meet the needs of your clients to improve your lead generation.
Buyer personas help you to understand the best approach to achieve benefits for your business while reducing expenditure.
When I started out in my business 7 years ago, I had coffee with lots of people who were never going to be my client. Let's face it, you only need to do that a few times until you realise you must work out not just who your customer is…but who they are not!
Spending the time on fleshing out the buyer personas of your prospects, will enable you to prioritise your time towards your 'ideal client,' so you can focus and save valuable time for the clients who value your product.
Below is a checklist to assist you through the buyer persona development:
1). BACKGROUND Job? Career Path? Family?
2). DEMOGRAPHICS Male/Female? Age? Income? Location?
3). INFORMATION Where/how do they get their information?
4). GOALS Primary Goal? Secondary Goal?
5). A TYPICAL DAY What are their daily challenges? Who influences their purchasing decisions?
6). WHAT CAN OUR BUSINESS OFFER … to help our persona achieve his/her goal? … to help our persona overcome his/her challenges?
7). REAL QUOTES How does your persona really feel about his/her goals & challenges?
8). COMMON OBJECTIONS Why wouldn't they buy your product/service?
9). MARKETING MESSAGING How should you describe your solution to your persona?
10). ELEVATOR PITCH Sell your persona on your solution!
11). WHAT WOULD YOU MISS? If we closed our doors tomorrow what would you miss the most?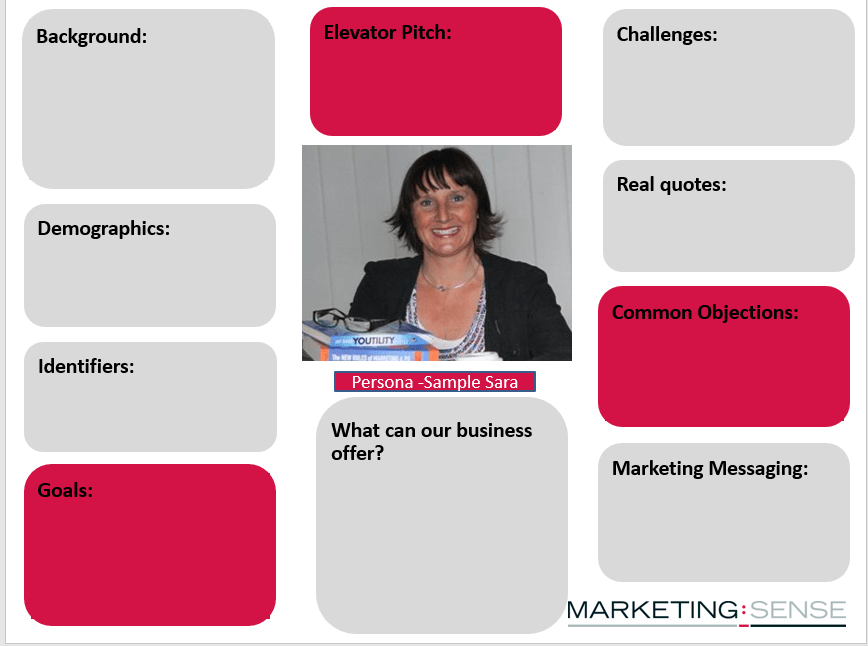 *Identifiers are mannerisms;the way your customers speak and behave
In your business you may have as few as 2-3 personas or as many as 10.
Your buyer personas can be developed in a group session with your team and should be based on client research and insights from your actual clients. Don't worry if you don't get them right straight away, they are a work in progress to be refined as you grow and learn.
The process of developing personas will also help you to determine your sales priorities, as some of your personas are going to better suited to your service than others. You can prioritise hot, warm and cold personas based on how easy it will be to sell, compared to other personas, and develop your sales process with all your personas in mind.
Indeed, this exercise will also help you to understand who you customer is not. For example, some people will never have the budget or are just too expensive to acquire – eliminating those that are not your customer will ensure you achieve a lower cost-per-lead.
So, as you can see, developing your personas is an important marketing strategy and a valuable use of your time, because it improves your ROI and your bottom line; your advertising spend will be more focused, conversion rates will be increased and your sales team will be clear where to spend their time.