Did you know that the humble and often neglected about page is the second most visited page on most websites? It's true. While you may have put lots of energy into getting your homepage right or getting your online store or services page up to speed, at the end of the day people buy from people.
This means your website needs to share your story, not just your products or services. That's why your about page is so important. Before buying from you, your customers want to know more about you. They want to relate to your struggles. They want to know your values. They want proof that they can trust you to deliver. They want to understand your 'why'.
A carefully crafted about page can do all that and more. A magnetic about page helps reassure, motivate and engage your audience. By sharing your story and your mission, your audience can get to know you and align themselves with you and your business. It also helps you stand out from the crowd and build a more compelling brand.
4 HOURS OF FREE MARKETING ADVICE FOR NSW BUSINESSES
As a Business Connect partner, Marketing Sense can offer you 2 x 2-hour business advisory/coaching session 100% subsidised by NSW Government Business Connect. Learn how to take advantage of this fantastic offer!
The benefits of sharing your story with your customers
Before we look at how to create a magnetic about page, here are some of the benefits you'll get from sharing your story with your customers:
Build trust – customers are more likely to buy from businesses they trust so sharing your story helps build trust from the moment they land on your site.
Create a connection – sharing your values and what you stand for is a great way to spark emotion and create a connection with your customers.
Offer a solution – sharing how you solved your issue gives potential customers hope for a solution to their problems.
Define your brand – highlighting the people behind the business gives you a valuable opportunity to stand out from the crowd and define your brand.
Attract your ideal customer – sharing your story, your values and your mission makes it more likely that your ideal customers will relate to you.
How to create a compelling story for your about page
If you don't fancy yourself a writer you may be trembling at the thought of writing a brand story, even if it's about you and how your business came to be. It's understandable if you're already wondering – what do you include? What do you leave out? How do you make it interesting?
Take a deep breath because storytelling is something we all innately understand. From the beginning of time, we've used stories to communicate everything, from warnings to celebrations and milestones to learning. Stories have been successful for so long as they are powerful, for both the storyteller and the reader.
Stories allow your reader to be transported to another time and to 'see' transformation as it happens. By sharing your story, your audience can understand why you started your business, see the issue you're solving and know how you can help them. This is why creating a compelling founding story for your about page is so important.
What to include in your story
Your story shouldn't be a novel. No one has time to read thousands of words! Stick to the main points so your brand story is no more than two paragraphs (at most). When considering what to include, take the point of view (POV) of your customer. If you were wanting to know more about a business, what would you want to know? This will help guide you through the process.
Here are the key elements that should be a part of every brand story.
The Problem
Most people begin a business to solve a problem. They can't find the right product for their needs. They need to stay at home with a young family. They are frustrated with existing offerings. Whatever sparked your journey, start with the problem you were looking to solve. This will hook your audience who are likely looking for the same solution.
The Conflict
What issues did you encounter along the way? How long have you spent refining your solution? What challenges have been difficult to overcome? Showing the effort and work you've put into coming up with your offering will help your customers appreciate the value you provide and put a human face to your business.
The Resolution
How did you overcome the barriers? What was the 'aha' moment that brought you to this point? This is where you can talk up your product or service and explain why your solution works and how it ended up being the ideal solution for you. This is the inspiring high point of your journey, after the lows of realising you had a problem and your struggles to resolve it.
The Outcome
Now that you've identified the problem, shared your conflict and found a solution, you can talk about the outcome for you and your audience. How can your product or service change their life? What are the benefits they can get from your offering? This is where the story shifts from 'you' to your customer, giving them valuable context to help make their purchase decision.
Get Personal
This is how your about page comes alive. Don't be afraid to get personal in your story. More and more people are engaging with an individual's purpose which means you need to open up about your passions, your qualifications, your experience and your values. Give your audience a glimpse into the person behind the brand by sharing some of the following details:
Why do you love this business?
What is the soul in your business?
What do you stand for?
What do you believe in?
What are you passionate about?
What qualifications do you have?
Who have been your mentors and inspiration?
What do you want your customers to think about you and your brand?
How do you make a difference in their lives?
Where did you get your passion from?
What about the business makes you happy – why do you do it?
Share a fun fact or a strange pastime.
DRIVE REAL RESULTS FOR YOUR BUSINESS
With our 1 hour coaching package, we will help you create a marketing system that works for you, to overcome your sales and marketing challenges to confidently manage your marketing.
Examples
Here are some examples of magnetic about pages that share their founding story to connect with their target audience:
Almo Milk: https://www.almomilk.com.au/our-story/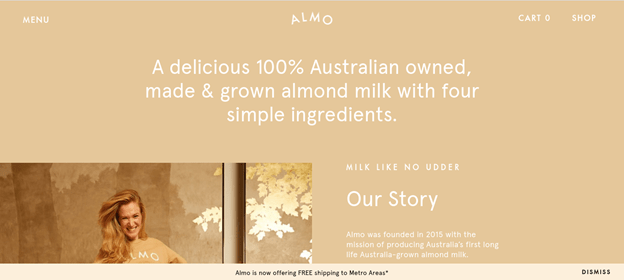 Linktree: https://linktr.ee/s/about/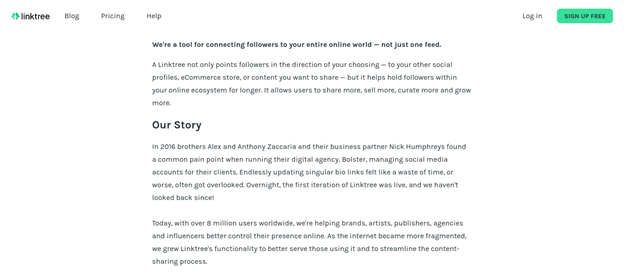 Go-To Skincare: https://gotoskincare.com/pages/our-story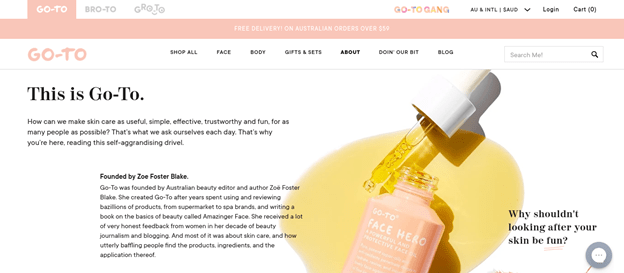 Atlassian: https://www.atlassian.com/company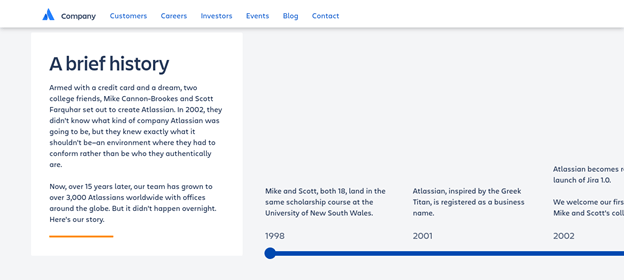 If you look closely at these pages, they include other must-have elements to draw readers in and help their ideal customers choose them over their competition.
NEED SOME GUIDANCE WITH YOUR MARKETING?
Take advantage of our free 15-minute discovery call and discover what your business needs to grow.
As your second-most viewed page, your about page gives you a golden opportunity to connect with your audience and build trust. Sharing your story is a powerful way to create a magnetic about page that shows your audience who you are, what you do, how you can help and why your business is the one they should choose to solve their problem.
Marketing Sense is here to guide your small business toward marketing success and help you create a marketing strategy to supercharge your business. Give us a call to discuss your needs and download your FREE copy of our Brand Statement Worksheet to get crystal clear on your business, your offering, your audience, and your competition.
Free Brand Statement Worksheet
Supercharge your marketing efforts in 2023!