Keyword research & SEO seem daunting but they don't have to be. Harness the power of SEO for your small business with these simple and actionable steps.
What'll we cover in this post:
Introduction
SEO and user intent
The importance of keyword research
Keyword research 101
The 6 step process of keyword research
SEO best practice for pages and posts
How to write an SEO optimised page or post
Harnessing SEO for small business
Introduction
For many small business owners, Search Engine Optimisation (SEO) gets put into the too hard basket. You know it's something you should deal with but it's continually changing and super complicated. And, is it even relevant anymore with some people claiming SEO is dead?
The truth is, SEO is more relevant than ever. It should be something you retrieve from your too hard basket and start looking at more closely. SEO is not dead, however, SEO as we know it has evolved. In the past, SEO was entirely keyword centric which meant that websites could be easily optimised by following a formula.
Today, paint by number SEO is no longer effective. Before you start to panic, this isn't a bad thing. This presents an opportunity for savvy small business owners to take advantage of the strides Google has made in understanding what customers want and how to best serve them.
DRIVE REAL RESULTS FOR YOUR BUSINESS
With our 1 hour coaching package, we will help you create a marketing system that works for you, to overcome your sales and marketing challenges to confidently manage your marketing.
SEO and user intent
You may have noticed that Google is getting more clever in anticipating customer search intent. Think about a recent search you've made. Google wants to know what you are thinking and have the answer available before you've even completed your search query. They want to give you the best search result in the quickest amount of time to deliver the ultimate user experience.
When it comes to SEO, keywords are still important, but user intent has truly come into its own. User intent (also known as search intent) is the 'why' to the searcher's 'what'. Why are customers searching for what they're searching for? Do they want to buy a product? Are they undertaking research for a future purchase? Do they want to know where they can get a product locally?
Keyword research and optimisation are still vital. Keyword research is the basis of any SEO strategy. However, different keywords can indicate different user intent. By knowing the groups of keywords your audience uses to find your product, you can discover what topics they're searching for and what information they're looking for (in other words, their user intent).
The importance of keyword research
SEO is about delivering content that solves a searcher's query based on their user intent. For instance, giving them the information they need to buy something, look for information, compare products or know how to do something.
For your business to be found when people are searching, it's important to know what words people are using to search. With this knowledge, you can optimise your website to use these words, which means your website has a better chance of showing up every time someone makes a relevant enquiry on a search engine.
The value in keyword research is that it gives you insight into:
What people are searching for (keywords)
How many people are searching for it (volume)
What type of information they're looking for (intent)
In some instances, user intent can change the meaning of a simple enquiry. For example, 'buy wedding flowers' could mean either a bride is looking for flowers for her wedding or a guest is looking for a bouquet of flowers to congratulate a bride.
Keyword research helps you create content on your website that delivers EXACTLY what your audience is looking for. It can also help you optimise your product selection, user interface and navigation on your website as well.
Keyword research 101
Before we explore how to undertake keyword research, let's go over a few important terms.
Keyword research is the process of finding and prioritising the search queries relevant to your customers and your business.
Head keyword is usually a short, highly popular and often highly competitive keyword or phrase.
Focus keyword or keyphrase is a term used by Yoast in their WordPress SEO plugin. This is the word or phrase you want a certain page on your site to be found for in Google. Inputting this keyword or keyphrase into the Yoast focus keyphrase input field at the bottom of your webpage helps Yoast analyse your content to help you rank better for that keyword or phrase.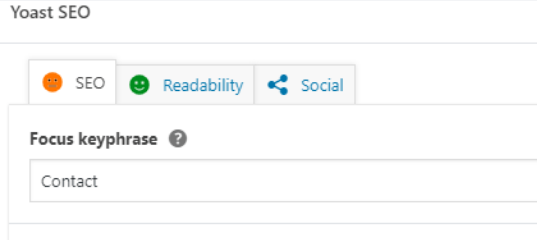 Long tail keywords are longer, more specific and less searched for keywords. They are less popular, but more targeted phrases to help you find the right customers. Long tail keywords are less competitive than shorter high-volume keywords, making them far easier to rank for and often easier to convert.
Keyword difficulty is the amount of work required to achieve high rankings for a keyword or phrase. The higher the search volume for a keyword or phrase, the more work is typically required to achieve higher rankings. Some keyword tools will supply a keyword difficulty score based on search volume and competition for the keyword based on Google Ads data.
Keyword strategy is the plan you create to identify the actions you'll take based on your keyword research. For example, will you focus on more popular head keywords or more niche long tail keywords? Which content will you create first and what format will that content be in? Does your keyword research mean you need to update your content and navigation first?
Remember, your content should always provide solutions to the searcher's 'problem'.
The 6 step process of keyword research
With keyword research, you start with broad topics and then narrow them down to specific terms or phrases (and user intents). Keyword research can take as little time as you want or you could get lost in it for hours. To ensure your efforts deliver meaningful results (and avoid overwhelm), break up your keyword research and complete different sections over time.
Step 1: Identify your goal
It sounds basic, but setting a goal for your SEO activities and keyword research is important. Knowing what you are trying to achieve, who your target audience is and your overall mission will help define the direction you take with your initial keyword strategy. As your goals are reached, or your business grows, you can review and update your strategy to suit.
Example: Local Florist – I would like to increase website enquiries for bridal flowers by 15% in the next 3 months. I will do this by creating more targeted content for brides focusing on popular local keywords identified through keyword research.
TASK 1: SEO Goal
_________________________________________________________________________________________________________________
_________________________________________________________________________________________________________________
_________________________________________________________________________________________________________________
Step 2: Make a list of possible keywords or topics
Create a range of themes or topics as a starting point. Brainstorm ideas or look at your existing website copy to come up with some themes. These can be big overarching topics or smaller sub topics based on your products or services.
Example: Local Florist – your possible keywords or topics could include:
Flowers
Flower shop
Buy flowers online
Flower delivery
Occasional flowers

Birthdays
Funerals/Condolence
New baby
Love
Anniversary
Just because
Etc

Wedding flowers
Flower types

Dried flowers
Fresh flowers
Native flowers / Australian native flowers

Location

Suburbs you want to rank for
TASK 2: Keyword Topics
_________________________________________________________________________________________________________________
_________________________________________________________________________________________________________________
_________________________________________________________________________________________________________________
To ensure you don't fall down the rabbit hole and get lost researching keywords, pick one or two important themes to start with. Keep the others to one side – once you've finished optimising your website for your first lot of chosen terms, you can move onto the other ideas on your list.
Once you have your starting list, you can begin looking at each topic in more detail. Here we start to gather some additional information on each topic. What are the related phrases for the topic? What would the long tail keywords be? What are the synonyms for this keyword?
TASK 3: Keyword Spreadsheet
Create a workbook in Excel or use Google Sheets. For each theme or topic, create a separate spreadsheet in the workbook. Set-up a list of columns to start with:

For each theme or topic, we're just going to complete the first column – Keyword or phrase. There are several free tools you can use to start filling out this column.
Free Tool 1: Google Search
Google offers three areas on its search page to help you find ideas for search queries. The first area is in the search bar. As you type your query, Google offers suggestions to complete it: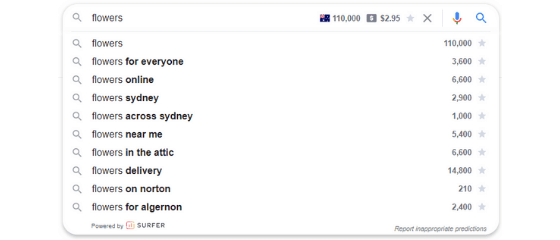 (I have a special feature on my page – at the side of each keyword you'll see the search volume for that keyword; this data is delivered by a nifty Chrome extension called 'Keyword Surfer').
Second, further down the page, Google has a question and answer section to help you identify more search queries:

Third, at the bottom of the page, we have the 'Searches related to' section with even more ideas: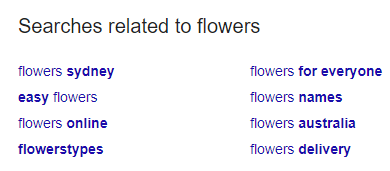 Free Tool 2: Ubersuggest
Ubersuggest offers free and paid tools to identify potential keywords. Just remember to change the search to English/Australia before starting so you get results relevant to Australia.

Ubersuggest will have heaps of usable info, so you'll be able to complete more columns in your workbook if you use this tool:


Free Tool 3: Answer the Public
Answer the Public collates search data to create relevant longtail keyword queries for any topic. Put in a phrase, such as 'buy flowers' and you'll see examples of statements and questions you could use for keywords for pages or as ideas for blog posts.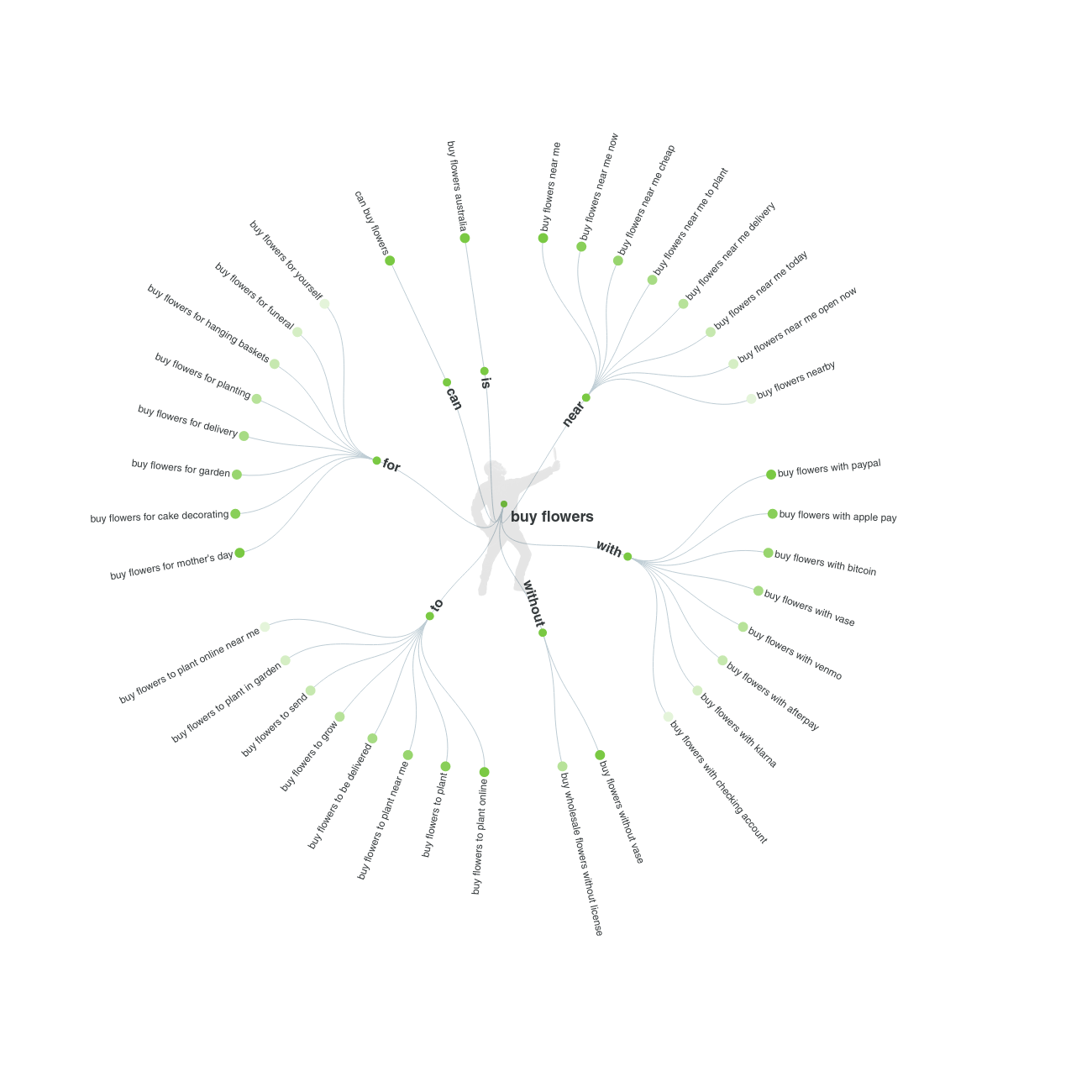 Free Tool 4: Wikipedia
A search on Wikipedia can provide lots of ideas for keywords. Take the example of searching for 'flower bouquet'. The Wikipedia page reveals some bouquets are called nosegays (possibly not a popular term, but interesting).
There are also some great ideas on wedding flower bouquet shapes, such as hand-tied, cascading, pomander, nosegay, long-stemmed bouquet and flower-spray bouquet. There's a blog post right there that can help brides in selecting their wedding flowers!

Interestingly, the article's table of contents and the 'See also' section at the bottom of the Wikipedia page can also deliver ideas to research: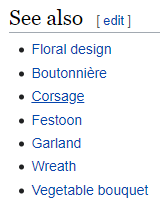 Free Tool 5: Google Search Console
You can discover a lot by looking at how people found you in the first place in Google Search Console. This info will tell you what you rank well for and what searches people used that didn't lead to a click. If any of these look good, add them to your list!
To see how people found you, log into Google Search Console using your Google login. Select the property you want to view. The domain level will capture data from your website before and after you made it secure, while the https property will only have data from December 2019.
Once the data has loaded, select the Performance Report from the menu: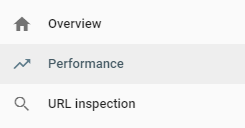 Scroll down to see a list of all the queries linked to your website, including how many clicks and impressions you received for each query. You can also download this data to help you gather and analyse more keyword ideas.
You can also use this data to identify poor performing keywords, ones that you'd like to rank better for. Look for keywords that have an average position above 10 and see which ones you might like to optimise. To find these keywords, click on the lines in the right corner and select 'Position', then move to the left and select 'Greater than' and type in 10.
More Free Tools
There are even more free tools you can use to dive deeper into your keyword research:
Yoast Google Suggest Expander is a quick way to expand out keyword ideas, much like Answer the Public.
Online forums in your niche can offer questions that can lead to blog topics
A search in Amazon can deliver some additional suggestions
If you use Chrome as your browser, there are extensions available that deliver keyword ideas and search volume right in the search results. Try the Keywords Everywhere and Keyword Surfer Chrome Extensions.
TASK 3: List the free tools you'll use to undertake keyword research
_________________________________________________________________________________________________________________
_________________________________________________________________________________________________________________
_________________________________________________________________________________________________________________
Step 4: Research your keywords
It's time to narrow down your keyword list by looking at how many people search for the keyword (search volume) and how hard it is to rank for the keyword (keyword difficulty or competition).
Some tools, like Ubersuggest, make this bit really easy. If you can access additional information, like the paid difficulty and SEO difficulty score from Ubersuggest, add this to each keyword in your spreadsheet.
Once you've completed each row (except for user intent), you can narrow your focus. Pick 5 – 10 keywords or phrases that are medium to low in their SEO difficulty score and are cheap in terms of cost per click. These will be the focus keywords that are easier to rank well for and will be the focus of your keyword strategy.
TASK 4: Fill out your keyword spreadsheet
Complete the next three columns in your spreadsheet – Search Volume, CPC and SEO Difficulty.

Tip: In 2015 Google launched RankBrain to better identify intent and keyword semantics. This means finding keywords is more about finding topics and covering that topic well.
Step 5: Take a look at search/user intent
As discussed at the start, user or search intent plays an important role in SEO strategy. It's important to know why people are undertaking searches so you can create content to not only answer their query, but also provide it in the format they need.
To find user intent, type your keywords/phrases into Google and look at what results come up. Use this information to help you identify the intent of the searcher. Add your findings to your spreadsheet.
Defining Search/User Intent
To help you along, there are 5 main types of search or user intent:
Informational queries – the searcher wants to learn more about a topic e.g. How to choose the right bouquet for your wedding.
Navigational queries – the searcher is looking for a particular website and is searching for that e.g. florist name.
Transactional queries – the searcher wants to do something, such as buy
Commercial investigation – the searcher is comparing options to find the best one for their needs e.g. roses vs lilies for an anniversary
Local queries – the searcher wants to find a local place such as a coffee shop or florist.
TASK 5: Complete your keyword spreadsheet
Complete the last column in your spreadsheet – User/Search Intent.

NEED SOME GUIDANCE WITH YOUR MARKETING?
Take advantage of our free 15-minute discovery call and discover what your business needs to grow.
Step 6: Plan your keyword strategy
The last step is to create your plan of action for those 5 – 10 keywords you've chosen. What type of changes do you need to make to your website to start ranking for those keywords? Based on user intent, what type of content do you need? Are changes required to your existing content?
Great content forms the basis of any good SEO strategy. The content on your website needs to deliver the answers to the search queries being typed into Google. Lists, question and answer formats and short optimised paragraphs are great for Google, particularly in terms of being picked up as a featured snippet.
Most importantly, your content needs to deliver the information people are looking for. Blog posts are a great way to expand your content to deliver information on topics that don't easily fit into your website page structure. Remember to include updated internal links when you create new content or review/optimise website pages as this helps their ranking as well.
Another important element of SEO are backlinks – links coming from other relevant websites to your site. Blog posts create a great opportunity for shareable content that can be linked to from other websites, forums or social media. Creating content that's captivating and easy to read, digest and share will help you spread the word about your products and services.
TASK 6: TAKE ACTION
Map out what you need to do to optimise your chosen keywords in the following ways:
Pages:_______________________________________________________________________________________________
Posts:_______________________________________________________________________________________________
Backlinks:____________________________________________________________________________________________
Best practice for pages and posts
While SEO is less formula-based these days, there are still practices you should follow to help your small business site rank well in search engines:
Use only one main title heading on your page or post (H1 heading). The heading should include the main focus of your content based on your keyword research (ensure it's relevant to the actual copy on the page). For example: What are the birthday flowers for each month?
Use your keyword research to identify synonyms and related words or phrases. Make sure you use these and your main focus phrase or keyword for the page in:

Your smaller page subheadings (H2 and H3 subheadings)
Your image file names
The alt text for the image
In your page content.

Page load times are important for SEO. Before uploading a new image, run it through a tool like TinyPNG to reduce the file size. Then rename the image to include the focus keyword (e.g. January-birthday-flowers-florist-sydney.jpg).
Include internal links in your content to other relevant pages on your website as this will increase the value of those pages as well as the one you're optimising. For the example above, we could include a shop widget linking to birthday flowers for sale.
Use your keyword research to review the content on your site to ensure each page includes:
relevant words and phrases (that people are using in search engines)
good heading and content structure (to make it easy to read)
two or three paragraphs of text (to provide an answer to the search query)
internal links and a call to action (to direct people to more information and to guide them to what to do next e.g. Buy birthday flowers online now).
If you've identified popular themes or keywords in your research that don't quite fit into your page structure, create a blog post. Blog posts offer an opportunity to broaden the amount of information on your website (using keywords), to deliver information that people are looking for.
Blog posts offer the opportunity to create shareable content for your social media profiles and to answer commonly asked questions. Writing blog posts for other sites or online publications (guest posting) is a great way to obtain valuable backlinks to your website and boost your SEO.
How to write an SEO optimised page or post
Let's break down the example used earlier – What are the birthday flowers for each month?
Step 1: Page title (H1 heading style)
What are the birthday flowers for each month?
[Text] Did you know that each month has a flower, just like it has a gemstone? Surprise your friends and family by giving them their birthday month flowers on their special day.
Step 2: Heading two (H2 heading style)
Flowers by month
Add another paragraph, including the main keyword at least once, plus related content. Include a text link to another page on your website if possible (e.g. you might have a page about different flower varieties). Write your content first, then come back and optimise for keywords. You should always write for humans first and Google second!
Step 3: Subheading (H3 heading)
Flowers for January birthdays
Add content for January, including an image with a relevant alt tag (including keyword).
Step 4: Next main sub-heading (H2 heading style)
Flowers for birthdays in February
As a rule of thumb, aim for at least 300 words per page, broken up with headings, images and bullet points.
Step 5: Call to action
Remember to include at least one call to action near the top of your content and one near the end. People need to be told what you want them to do next so make it easy for them to take action. For example: Buy birthday flowers online now (e.g. call to action link or button).
Step 6: Backend SEO
Remember to update the SEO sections of your page templates in the backend of your website. If you're on WordPress, Yoast is your best bet. Remember to go to the SEO section on your page and add a unique meta title, meta description and focus keyword or phrase. Yoast will give you additional suggestions to help you further optimise your page.
Harnessing SEO for small business
The best way to ensure SEO stays on the radar for your business is to make it an important part of your business strategy. This means ensuring time is booked in your diary in advance to do the work (ideally every month, but at the very least, every quarter).
Adding anything extra to your list, especially SEO, can feel like a pain. However, when done well, SEO can help your business grow, making the effort more than worthwhile. Start by creating a regular SEO plan, with actions split over the quarter.
To give you an idea, here's a list of activities you can plan to revisit each quarter:
Devote time to do keyword research related to your industry.
Pick no more than 5-10 keywords or phrases to focus on for the quarter.
Identify existing content you can optimise based on your keyword research.
List blog post ideas that leverage opportunistic keywords (keywords that are popular, not too competitive, relevant and could offer value to you).
List existing blog posts to update.
Identify other SEO opportunities, such as holidays (Christmas, etc.).
Create a list of content ideas from your keyword research.
Assign tasks to yourself each week including keyword research, reviewing existing pages and images, creating new pages or blogs (and sharing them on social media).
Track your progress.

Monthly – track that you're getting through the assigned tasks.
Quarterly – use Google Search Console to see if your keywords are performing better and if you're increasing your impressions and click throughs.
Quarterly – use Google Analytics to track the number of website visitors. Review traffic sources and check your online sales to see how they're tracking.
You may find some keyword groups will need more time and effort, so use your business strategy and goals to help you decide where to focus your activity. At the end of the quarter, set aside time to review what you've done and what you'll do next. Once you've completed a set of keywords, do your keyword research for the next theme or topic on your list.
With a clear plan and set tasks, you'll find building SEO into your business will become easier over time. Once you start seeing the results of your efforts (in more traffic and sales) you'll never question the validity of SEO for your small business ever again!
Marketing Sense is here to guide your small business toward marketing success. Give us a call to discuss your needs and download your FREE copy of our Brand Statement Worksheet to get crystal clear on your business, your offering, your audience and your competition.
Free Brand Statement Worksheet
Supercharge your marketing efforts in 2023!