Full disclosure: I need to share how much I love LinkedIn!
As a small business in the professional services sector, I have secured more leads, sales and contracts from LinkedIn (LI) than any other social media platform. It's also been a valuable source for finding partners for my business, as well as clients.
However, it constantly amazes me just how many business owners are missing out on this amazing platform as LI is still seen by many as somewhere to host your online resume. Living in the shadow of social media giants, Facebook, Instagram and Twitter, businesses haven't viewed LI as a content marketing platform, seeing it instead as a recruitment tool. But recent changes following Microsoft's acquisition in 2016 has seen LinkedIn grow in popularity and reach.
New features, such as product pages and LinkedIn Live, have steered the platform towards content marketing. Combine that with a fast-growing audience of true decision-makers and LI suddenly becomes an attractive proposition for B2B and B2C businesses looking to grow brand awareness and reach.
Why I love LinkedIn (and how I use it to grow my business)
As a longtime user, I enjoy the time I spend on LI each day, both in a professional and personal capacity. I love the opportunities on LI to build your personal brand, connect with others, share content and learn something new. It's such a unique platform – I really do wonder why so many business owners haven't yet discovered the power of LinkedIn!
Let's start by looking at my LI profile: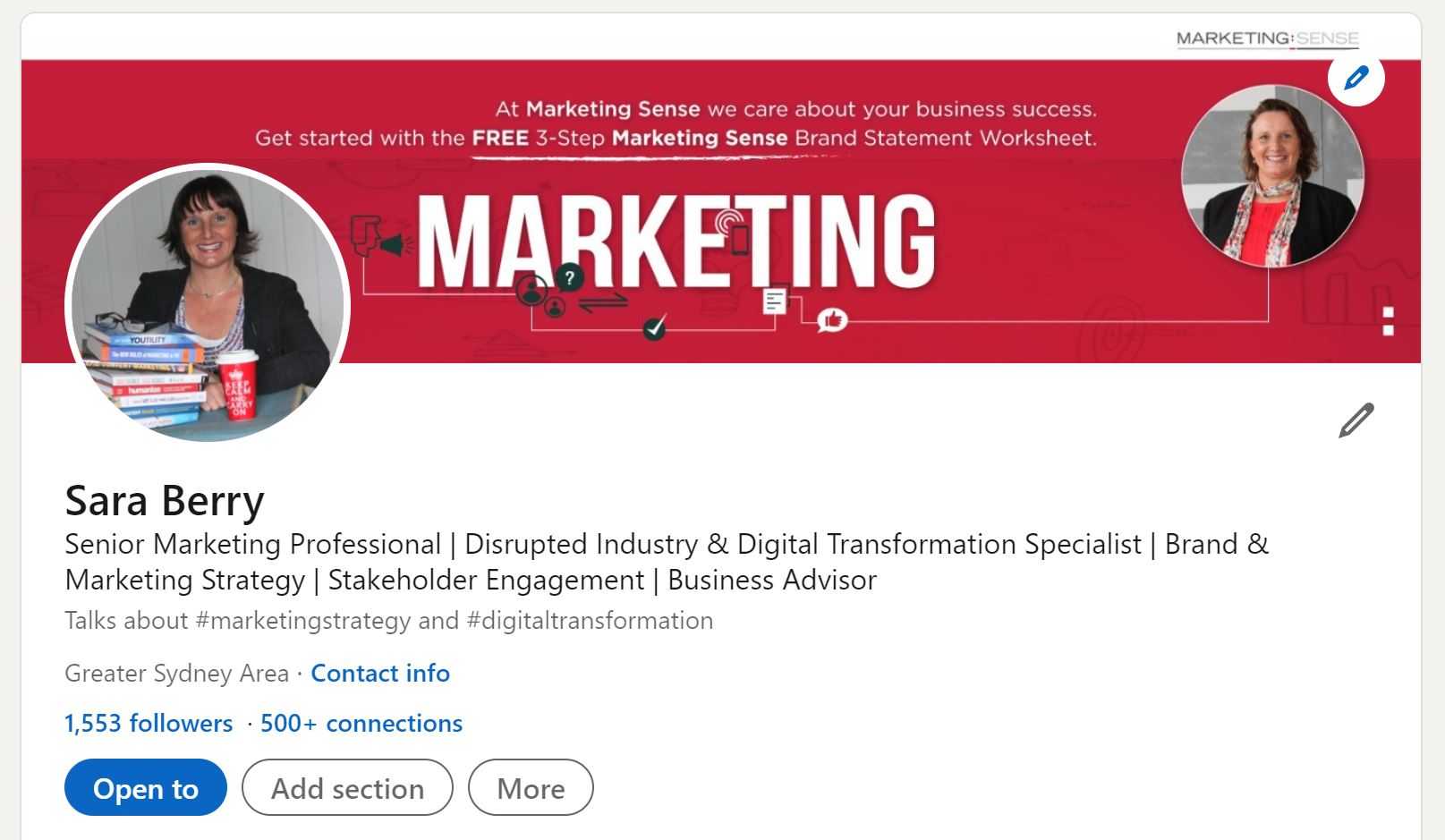 LI gives you the opportunity to share your brand, your values and your expertise in one powerful page.
The banner (which you can create in Canva) can be used to showcase an offer, share your values and speak directly to your target audience.
The headline (the text block under your name) is searchable and ripe for keywords. Here you can share what you do, your expertise and how you can help your audience.
The hashtag area (under the headline) is a place where you can tell people what you're interested in talking about and following.
The location and contact elements provide more information for potential contacts so they can get in touch.
There are practical ways you can leverage your profile on LI to build your network and capitalise on your valuable connections. Here's how I use LinkedIn to find new leads, contacts and clients:
Be conversational. Don't feel the need to be too formal on LI. In real life, connections are made through having conversations. The same principle applies on LI. Stay professional but don't be afraid to show your personality.
Go offline. View your online LinkedIn connection as the first step in creating an offline connection. Once you've established a good online rapport, invite them to a casual face-to-face meet up to further your network.
Leverage online connections. Networking is not easy for many of us so use LinkedIn to break the ice. If you happen to meet one of your LI connections in person, start a conversation with them based on your existing connection.
Stay relevant. Don't accept every invitation to connect or send invites to people without a connection to your role. Focus on making relevant connections to create a more meaningful and useful network.
Get involved. Be active on the platform to give people the chance to know you and what you do. Comment on others' posts, create thoughtful content and share relevant information. 15 minutes a day is all it takes to get involved.
Now you understand what I love the platform and how I use it, it's time to look anew at LinkedIn and see what this platform can do for your business.
4 HOURS OF FREE MARKETING ADVICE FOR NSW BUSINESSES
As a Business Connect partner, Marketing Sense can offer you 2 x 2-hour business advisory/coaching session 100% subsidised by NSW Government Business Connect. Learn how to take advantage of this fantastic offer!
3 Reasons Your Business Should be on LinkedIn
There are 3 big reasons why your business needs LinkedIn now.
Strong Growth
While LinkedIn is still nowhere near the size of Facebook, it has experienced phenomenal growth over the last few years. LinkedIn has 722 million members and 55 million companies, with feeds seeing 9 billion content impressions each week. LinkedIn drives 46% of social traffic to B2B sites and is considered the most credible source of content of all social media platforms.
In 2020, LinkedIn saw a 55% increase in conversations among connections. In this period, content creation also increased 60% and LinkedIn Live streams increased by 437%. To illustrate the growing shift away from recruitment to content marketing, LinkedIn now features 15x more content impressions than job postings.
If you're not already using LinkedIn for your business, it's time to hop on the train and start taking advantage of its growing reach and influence before you or your business get left behind.
Organic Reach
Unlike the other social media giants, you don't have to "pay to play" on LinkedIn. Yes, there are extra features and membership benefits available for a fee via LinkedIn Premium but you can still get effective reach on LinkedIn without forking out for ads (in contrast to the current state of affairs on Facebook or Instagram).
Hubspot found that LinkedIn is 277% more effective at generating leads than Facebook and Twitter. Given this, it's no surprise that 79% of marketers see LinkedIn as a very good source of leads, with 43% of marketers saying they have sourced at least one customer from LinkedIn. In fact, 96% of B2B content marketers use LinkedIn for organic social marketing.
There's another reason LinkedIn is such a strong organic traffic source. 30% of a company's engagement on LinkedIn comes from employees. Did you know that employees are 14x more likely to share content from their employers than other types of content on LinkedIn? Or that coworkers are 60% more likely to engage with posts from their teammates?
Building a community on LinkedIn for your employees allows your business to harness the power of employee advocacy and grow your reach organically. This is a unique advantage that LinkedIn has over other social media platforms. Just like Facebook did 10 years ago, LinkedIn still rewards organic content, so it makes sense to use this power while it lasts.
Powerful Audience
As the largest professional service platform in the world, LinkedIn helps you leverage a powerful audience. 4 out of 5 people on LinkedIn drive business decisions, with 61 million senior-level influencers having a presence on the platform. For B2B businesses especially, this presents a significant opportunity to connect with your ideal customers and build your brand.
Users who follow a company on LinkedIn are 81% more likely to open an in-mail from that brand. This is one of the reasons why LinkedIn generates 80% of overall B2B leads across social media. The ability to connect and engage directly with your prospects, many of whom are decision-makers in your industry, is a compelling reason why you need to be on LinkedIn now.
DRIVE REAL RESULTS FOR YOUR BUSINESS
With our 1 hour coaching package, we will help you create a marketing system that works for you, to overcome your sales and marketing challenges to confidently manage your marketing.
7 Best Practice LinkedIn Tips for Business
Now you've seen the benefits of LinkedIn for your business (and why you need to be a part of it quickly), here are some best practice tips to help you get the most from the platform.
Post content consistently
According to LinkedIn, companies that post weekly see a 2x lift in engagement with their content. As with all social media channels, consistent posting is the key to building an audience and increasing reach. LinkedIn offers the following advice for content marketing:
Understand what you want to achieve from your Page before you start posting – create a roadmap for your content to stay on message and achieve your goal.
Always add value with content that helps your target audience – ensure everything you post is useful, relevant, timely and curated with their needs in mind.
Develop a regular posting schedule so your audience knows when to expect content – use analytics to identify the time of day that attracts the most engagement.
Mix up your posts by utilising different content formats – keep your audience interested in your message with text, image, video, stories, pdfs and other content pieces.
Share posts from others in your field or industry in addition to your own content – this will build your authority and reduce the burden of original content creation.
Always reply to comments on your posts – engaging with your audience starts a conversation, delivers important insights to your business and builds goodwill.
TAKE ACTION: Create a roadmap for your content. List the pain points for your audience, identify the value you can add with your content and commit to a regular posting schedule.
Create a company and/or a product page
You may already have a professional profile for yourself but to gain traction for your business, you need to set up a dedicated company page too. Ensure you include as much detail as possible, including a logo, overview, organisational info and a call to action. This is where your audience will come to check out what your business does and how it can help them. You need to make it easy for your audience to understand what you do and what you offer.
If you have a key product in your business, create a dedicated product page to showcase its benefits and start growing a community around it. Here, you can share updates, launch new options and create a real buzz around your product. Building an engaged audience will provide valuable insight into what your customers want. It will also give you immediate access to feedback and help you further refine your product to increase sales and conversions.
TAKE ACTION: Create a company page for your business, providing as much information as possible. If you have a key product, establish a product page to showcase it too.
Embrace video
Video is as big on LinkedIn right now as it is everywhere else on the internet. To grab attention, include video in your content roadmap. Whether you want to share a tutorial, a product reveal or an update on your service offerings, video is the way to do it. Choose from going live, adding a video to your story or uploading pre-recorded video to attract interest and increase engagement.
Here are some stats from LinkedIn that illustrate the importance of video. Brands get 7x more reactions and 24x more comments on LinkedIn Live streams than regular video. Users are 20x more likely to re-share a video post. And here's an interesting one. If the same content is available in both video and written format, 59% of executives said they would choose to consume it via video.
TAKE ACTION: Plan how you'll incorporate video into your LinkedIn strategy. Introduce the person behind the brand in a live video or share a behind the scenes glimpse with a story.
NEED SOME GUIDANCE WITH YOUR MARKETING?
Take advantage of our free 15-minute discovery call and discover what your business needs to grow.
Use keywords and hashtags
Every part of your LinkedIn profile is searchable, so make it easier for people to find you and your business by incorporating keywords into your profile and company and/or product pages. Target the following areas of your pages for keyword opportunities:
Tagline
Description
Hashtags
Specialties
Don't forget to go back to your profile and add keywords there too:
Headline
About
Experience
Education
Hashtags are another useful tool for your profile and page. When setting up you'll be able to select three hashtags and see and respond to trending posts from the hashtag feed. Don't forget to add relevant hashtags to your posts to increase searchability. A hashtag search will also help you discover leading influencers in your industry and give you the chance to build connections to support business growth.
TAKE ACTION: Identify 3 keywords and 3 hashtags to include in your page information to boost searchability and undertake a hashtag search to find new connections in your industry.
Build your network
One of the fastest ways to grow your following on LinkedIn is to invite existing connections to follow your new page. Every page admin receives monthly credits which can be used to issue invitations to their contacts. There are limits on the number of connections you can invite to follow your page, so focus on the most relevant prospects.
Get into the habit of inviting new contacts you meet in person to connect on LinkedIn. If you meet someone at a business-related event, tell them you'll send them an invite to connect and do it there and then on your phone (with the LinkedIn app). Think of your LinkedIn profile as an online business card and share accordingly!
Make time to check in daily on LinkedIn, even if it's only for 15 minutes. It's a great place to learn and engage with other people's content as well as build your profile in your area of expertise. I personally love the insights and business intelligence I get from my connections and relish the chance to chew the fat on trending topics.
Select other company pages to follow to get updates on their projects and initiatives. This is a great way to identify opportunities for your business through contributing to the conversation, building your own profile, broadening your network and generating new leads. It's also handy for your ongoing competitor research.
Ask for recommendations from your connections and seek their endorsement for your skills too. Unique to LinkedIn, recommendations and endorsements build trust in your skills and provide valuable social proof. Providing them to others in your industry is a great way to receive them in return and build new connections.
Share your page with your existing network. Tag your page in a post on your personal feed and invite your connections to follow. Or share a post directly from your page to your feed to build awareness. Either way, this is a great way to build follower numbers and raise the profile of your business on LinkedIn.
TAKE ACTION: Review your existing connections, identify who could be part of your potential target audience and invite them to like your new page.
Ask employees to share
If you have employees, get them to like and follow your business page. We know 30% of a company's engagement on LinkedIn comes from employees. The truth is, your employees are your most important brand advocates. If you can get them to share content from your company or product page, your content could be seen by multiple connections and shared more widely.
With employees 14x more likely to share content from their employers than other types of content and 60% more likely to engage with posts from their teammates, it makes sense to ask employees to share your page. It's a powerful way to amplify your company's message and create genuine brand advocates.
TAKE ACTION: Invite your employees to like your page and share relevant content with their LinkedIn connections.
Connect via direct message
LinkedIn's direct message feature is another way you can raise awareness of your business and your new page. However, with the overuse of this function (we've ALL received unsolicited messages trying to sell us something!), it's best to use this feature with care. Similar to inviting connections to follow your page, only direct message prospects in your target audience.
The tone should be friendly and focus on how your page or product would be a good fit for their needs. Invite them to follow but don't try for a hard sell. The first step should be to raise brand awareness and encourage more people to follow your business. It's essential to focus on growing expertise, authority and trust to increase the chance of future sales and conversions.
TAKE ACTION: Identify 10 people and create a personalised message to introduce your business, promote the benefits and invite them to follow along for more information.
Updated Features
Since Microsoft took ownership of LinkedIn in 2016, the world's oldest social media platform (yep, it's older than Facebook!) has grown from strength to strength. Several changes have impacted how businesses can use LinkedIn and have led to sustained growth on the platform.
These updated features are powerful tools for businesses looking to build brand awareness, focus on core product offerings and harness the power of employee advocacy.
LinkedIn is full of potential for businesses of all sizes. If your business doesn't yet have a presence on the platform, it's time to get started. With so many new features and organic growth still a possibility, there are many reasons why your business needs LinkedIn NOW!
Marketing Sense is here to guide your small business toward marketing success and help you create a marketing strategy to supercharge your business. Give us a call to discuss your needs and download your FREE copy of our Brand Statement Worksheet to get crystal clear on your business, your offering, your audience, and your competition.
Free Brand Statement Worksheet
Supercharge your marketing efforts in 2023!