Do you feel you are doing all the things when it comes to digital marketing but you're not seeing a return on your investment?
As a marketing coach, I often work with clients who use a range of digital marketing tools, (like AdWords, paid and organic SEO and social media) to build sales and growth. They want to learn how to manage digital marketing for themselves but are struggling to get results – they don't understand why it isn't working for them.
There's a good reason why business owners struggle to get the most from their digital marketing efforts and it's probably the reason you're struggling with it too.
Without understanding the fundamentals of marketing and a clear overarching strategy, it's impossible to get the most out of digital marketing.
The fact is, most business owners don't understand how to use their marketing assets to increase awareness, which is the key to sales and growth. Without a clear strategy in place to build trust and brand awareness, you'll keep trying every trick out there but you'll never achieve the results you're looking for.
It is possible to make your digital marketing work for yourself as a small business owner. But, this can only happen when you understand the fundamentals of marketing, know the difference between strategy and tactics and understand how everything works together.
It's time to join the dots to make your digital marketing really work for you.
Business Fundamentals
To establish an effective marketing strategy, it's essential to first understand the fundamentals of your business. This means getting back to basics and understanding why you do what you do, what you offer, who you serve and what differentiates you from your competitors.
Start by answering these questions:
what is your goal?
who is your target market?
what value does your product/service provide?
what message do you want to communicate?
how does your pricing match up?
where does your target market hang out?
If you're struggling to answer these questions, our 7 Day Marketing Challenge will guide you step-by-step through this process. The challenge will provide clarity on how to set marketing goals, how to create a competitive offering, how to position your business and how to engage with your audience. Before you do anything else, get the fundamentals right by signing up for our 7 Day Marketing Challenge.
Developing a Marketing Strategy
Many of my clients struggle to differentiate between strategy, tactics, and tools. Most business owners think a tactic is a strategy – for example, they consider social media marketing to be their strategy to achieve sales and growth.
Social media marketing is a tactic you can use as part of your overall digital marketing strategy, but it isn't a strategy in itself. This is where many business owners trip up – they use a bunch of tactics without any strategy behind it, resulting in less than ideal results.
To help you avoid the same pitfalls, here's a quick guide to the fundamentals of marketing that will help you join the dots to make your digital marketing work.
Strategy
Your strategy should build on the fundamentals of your business, setting out the coordinated actions you'll follow in order to reach your target market. A strategy coordinates your messaging across channels, to increase brand awareness, recognition, trust and supercharge growth.
Tactics
Tactics are used to support the overall strategy, helping your business build brand awareness across multiple channels. Tactics used in digital marketing include website marketing, SEO, content marketing, social media marketing, PPC advertising, SEM and email marketing.
Tools
There are countless systems, platforms, and apps used as tools in your marketing strategy. For instance, Facebook is a tool used in social media marketing, Adwords is a tool used in PPC advertising and MailChimp is a tool used in email marketing.
Customer Behaviour
For your marketing to be effective, you need to understand customer behaviour and how it impacts your marketing strategy. The Rule of 7 is a marketing principle that states that your prospects need to come across your offer at least seven times before they notice and take action.
Your prospects can be exposed to your offer more than seven times, but they need to see it at least seven times. This helps them remember you amid the noise of modern marketing and positions you to get better results.
The Rule of 7 is critical when you consider your customer's digital journey. The digital journey is about how your clients get to know you, like you and trust you, moving from website visitors through to paying customers by engaging with your content in different ways.
During your customer's digital journey, it's important to continually build awareness of your brand. This helps you meet the Rule of 7 and encourages customers to get to know you, like you and eventually trust you.
Certain channels, coupled with different content types, can assist in each phase of the client journey. Over time you build a relationship with your customers, further defining your brand, your service/product offerings, and your credibility, eventually resulting in increased sales and growth.
At each stage in the know, like and trust process, you can use different tactics and tools to:
create brand awareness,
develop customer relationships,
provide clarity on your service offerings,
establish credibility,
increase visibility,
foster engagement, and
build long term organic SEO, increasing your visibility on Google.
As you can see, this is a long-term strategy that builds over time, raising brand awareness and building trust while transitioning your clients from website visitors through to loyal and repeat customers.
So, how do you help your customers move through each stage of their digital journey?
TAKE ACTION: Map the digital journey for your clients, from acquisition to conversion, and identify how you will move them from knowing you to liking you to trusting you.
An Integrated Approach to Marketing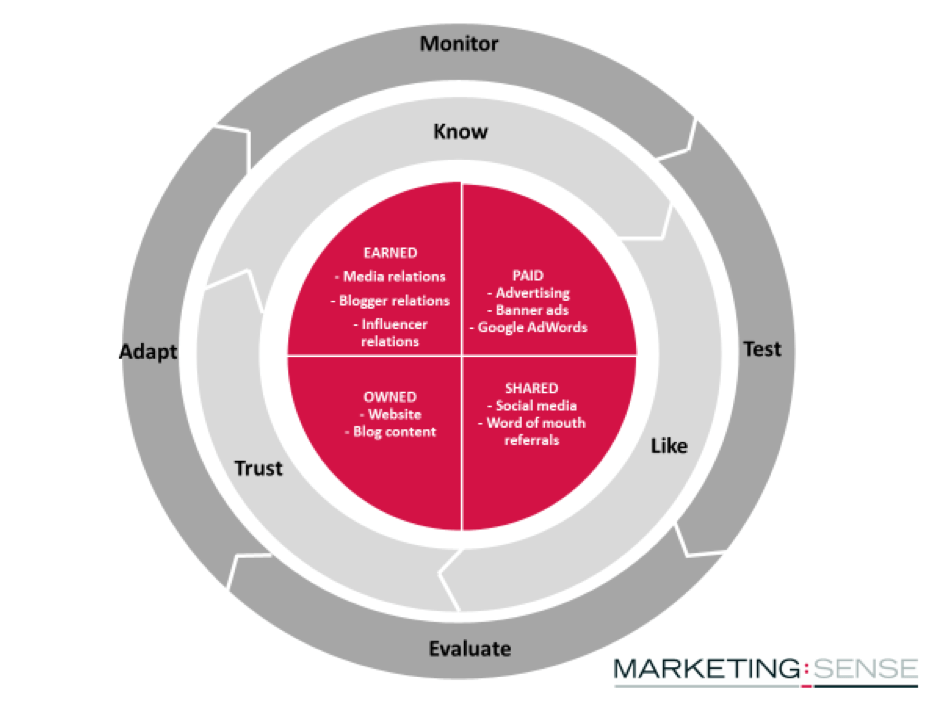 In line with your overall strategy, it's important to take an integrated approach to marketing. This is where the idea of owned, earned, shared and paid media comes in. Your strategy should harness each element to effectively connect with your customers wherever they are on their digital journey.
Owned media – marketing assets you own, including your website content, blog posts, and your email marketing list.
Earned media – marketing you earn from external sources, including media relations, blogger relations, and influencer relations.
Shared media – marketing assets that are shared by others, including social media content and word-of-mouth referrals.
Paid media – marketing assets you pay for, including advertising, banner ads, Google AdWords, etc.
When you use different assets in a campaign, such as using paid ads to attract new leads to your website, it's vital they work together as part of your overall marketing strategy. There's no point investing in paid media if your website is not set up to nurture your new leads on their digital journey.
The best way to demonstrate the importance of your digital assets working together in an integrated approach is to run through a few examples of what NOT to do.
Example 1:
A business owner decides to run a Google AdWords campaign to grab more leads. However, the link from the ad doesn't land on a landing page specific to the paid search term, it just takes the prospect to the home page where it's hard to find relevant information. Instead of coordinating paid media (AdWords) with owned media (website landing page) the business owner made no effort to convert the lead, resulting in poor conversions.
Example 2:
A business owner decides to invest in a paid Facebook campaign that goes straight for a sale. However, with no brand awareness or trust established and a website that hasn't been optimised for sales, their marketing efforts go to waste. Having a strategy to build awareness and trust over time while adopting an integrated approach (combining shared and owned media) would have yielded better results.
Example 3:
A business owner decides to seek out media exposure for the launch of a new product. They secure interest in their story in print media but fail to capitalise on this exposure online using shared or owned media. This means they miss an opportunity to amplify their earned media exposure through social media shares and also miss the chance to funnel potential leads to a dedicated landing page for their new product.
Don't let your marketing efforts go to waste. Ensure everything you do aligns with your strategy and can be integrated to maximise the effectiveness of your campaign.
TAKE ACTION: Now you've mapped your customer's digital journey, consider how you can use your existing digital assets and a mixture of content types to join the dots to move your customers from awareness (knowing you) to post-purchase (trusting you).
Making the Most of Your Existing Digital Armoury
You don't need to reinvent the wheel when it comes to digital marketing as there's a good chance most of these digital assets are already in place. Instead of setting up something new, review what you already have (your 'digital armoury') and start 'joining the dots.'
Once you understand how all the elements work together, it's much easier to appreciate the big picture and identify how you can make the most of your digital marketing efforts. You'll understand it's less about the tactics and tools you use, and more about the strategy you put in place to move leads from brand awareness through to trust and purchase.
As a business owner, it's hard to keep up with the ever-changing digital world. Make things easier for yourself by creating a strategy to solve the puzzle. Join the dots, make your digital assets work together and create a positive digital journey for your customers, encouraging them to know, like and trust you, leading to a new level of sales and growth.
Keen to learn more about joining the dots for your digital marketing? Enhance your marketing capability by joining our 7 Day Marketing Challenge. Discover how you can make the most of your marketing and start to build your business one day at a time!