Social media is one of THE most effective marketing channels that you have at your disposal. While social media might be where you go when in procrastination mode or when you want to catch up with friends online, it's increasingly the place where people ask for recommendations, research potential purchases or check out product reviews.
Social media is now a big part of how we (and our customers) make purchase decisions. That means your business needs to establish a solid social media presence so you're front of mind when your ideal customer starts their search for your product or service.
Now, you might have written social media off when organic reach began it's slow and steady decline. It definitely is not as easy to be seen online as it was even a few years ago. However, you don't HAVE to pay to play. With a clear strategy and some clever tactics, you can use unpaid social media to build your brand and boost your sales.
The first step is understanding social media's growing role in our lives and how we, as business owners, can harness this power. Which is why building a profitable sales funnel using social media is such an important strategy, whatever your business.
DRIVE REAL RESULTS FOR YOUR BUSINESS
With our 1 hour coaching package, we will help you create a marketing system that works for you, to overcome your sales and marketing challenges to confidently manage your marketing.
The sales funnel explained
The sales funnel is a visual representation of how you interact with customers from the first time they encounter your business at the top of the funnel, through to the bottom, when they've (hopefully) made a purchase.
The sales funnel isnt always linear – there are occasions when your customers won't follow a straight line or will dip in and out at unexpected points. When you think about all the variables involved, such as increased customer awareness, internal and external influences on customer decision making and new and improved technology, it's impossible to plan for every eventuality.
However, the sales funnel is the best way to understand your customer's potential journey from awareness through to advocacy. It's also an effective tool in creating products and services that truly serve them, helping you to build your brand and ultimately boost your sales.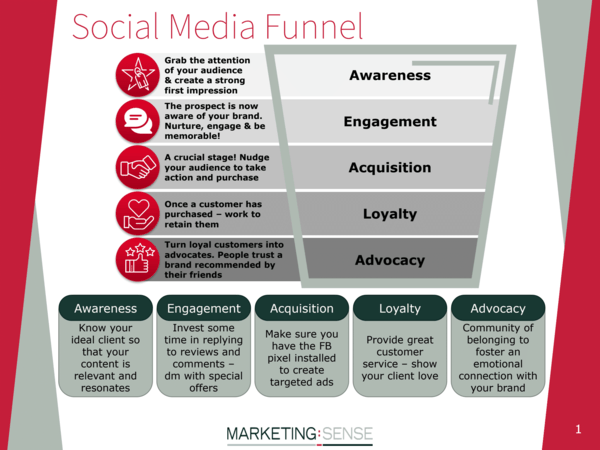 Top of funnel (TOFU) is the widest part. This represents the awareness phase of the customer journey, when they first come across your product or service. Potential customers might land on your homepage, see a social media post or be served a paid advertisement.
If they're interested in your offering, they move to the engagement phase, as they work their way towards the middle of the funnel (MOFU). In this phase, they might comment on a blog post, reply to a social media comment or share one of your posts.
The next phase in the sales funnel is acquisition. This is when the customer contemplates making a purchase and decides to take action. If they are satisfied with their decision, they move into the loyalty phase, where they are likely to buy from you again.
The pointy end of the funnel (known as bottom of funnel or BOFU) is where your customers transform into brand advocates. The advocacy phase may hold the smallest number of customers but these customers can have a huge impact on your business.
Remember, this isn't a rigid path – it's just a framework to get you thinking about the journey your customers take and how you can create experiences to help them along the way.
Now, you might have a picture in your mind of funneling customers using a fancy landing page, sophisticated email campaign and professional looking downloadable content. However, you don't actually need those things. You can use your existing social media channels to create an effective funnel to build your brand and boost your sales.
Even better, you can do it without paying a cent for advertising!
NEED SOME GUIDANCE WITH YOUR MARKETING?
Take advantage of our free 15-minute discovery call and discover what your business needs to grow.
How to use a social media sales funnel to build your brand
Awareness
Create a strong first impression and establish your brand as an authority in your niche by posting content designed to attract interest. Take the time to see things from the perspective of your customer to uncover their goals, challenges and frustrations. Use this information to hone in on how your product helps them and create content to show how you can solve their problem.
Strategies for building awareness using social media
Use a striking visual to grab attention while providing valuable information. Think about how you could stand out in the newsfeed with bright colour, bold font and crystal clear images to stop your audience mid-scroll and get them to read your post.
Share information about the people behind the brand. Personalise your feed and show your audience that there's a real individual behind the brand. Humanising your business can be a powerful way to add your unique personality and attract interest.
Use video posts on Instagram to stand out on the Instagram feed. This can be an effective way to get your customer to stop scrolling long enough to take in your message and, hopefully, click on your bio to find out more.
Create positive awareness on your page to drive engagement. If there's a cause or project close to your heart, don't be afraid to share it on your page to attract like-minded customers and new brand followers.
Embrace video to deliver interactive content. Video is still king when it comes to shareable and engaging content. Remember, you don't have to address the camera directly to make a video – show off your products or take a tour of your store instead.
Let's talk about video
Social media platforms LOVE video, with both long-form and short-form videos among the most-shared content. The fact is, video attracts more engagement than anything else, getting somewhere in the range of 1200% more shares than text and image updates. While you might not want to get in front of the camera, that's not the only way to harness the power of video.
You can use video to show off your products, share behind the scenes secrets, interview your team, highlight great reviews, take a tour of your premises or talk directly to the camera. You can pre-record videos to get a polished result or take the power of video a step further with a live broadcast to benefit from instant engagement and feedback. It's perfect interactive content.
Case Study: Starbucks
Starbucks often launch novelty, limited-time products, and use social media to build hype around them, just like this Unicorn Frappuccino. With their Instagram feed adorned with bright colours, glitter and all things unicorn for the week-long campaign, Starbucks generated more than 155,000 posts from customers excited to try it for themselves, cleverly building awareness and reach.
<span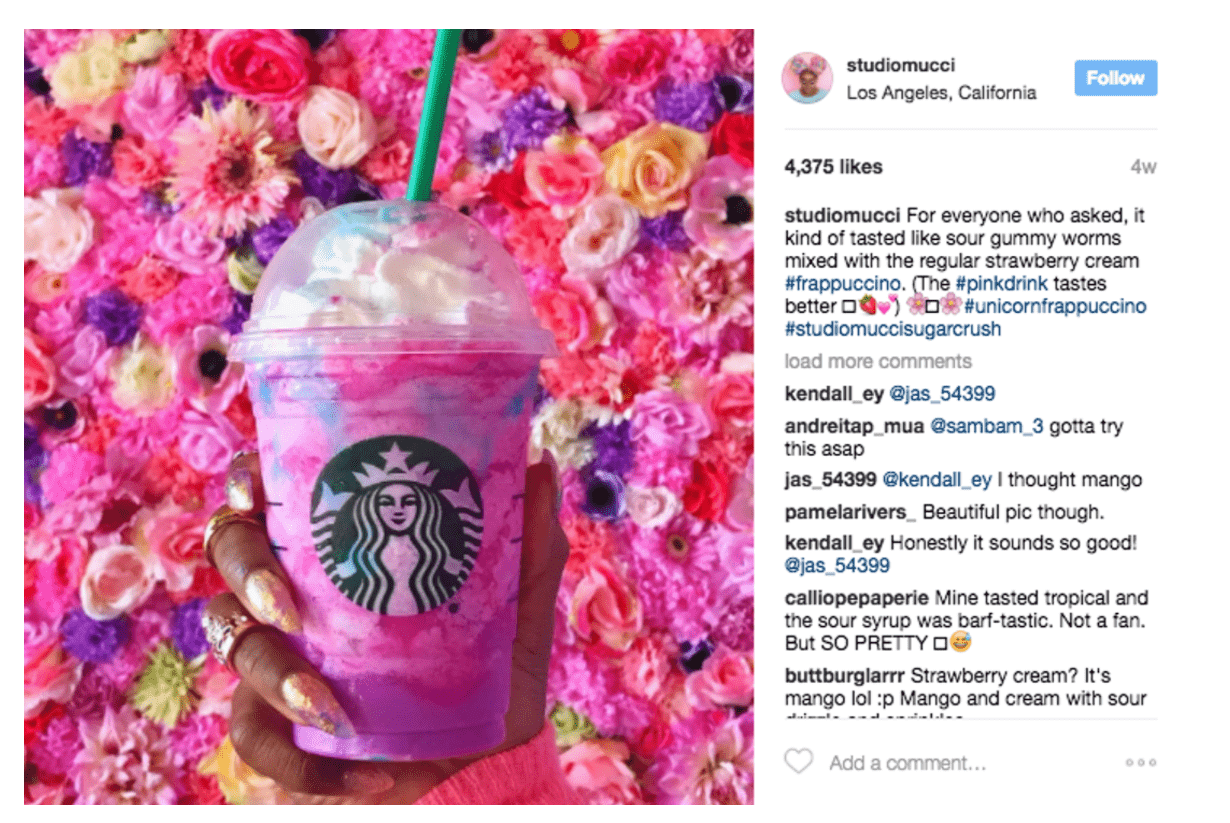 Engagement
The customer is now aware that you exist as a choice among all the other brands offering similar products or services. It's time to nurture them and start building a relationship because engaged customers are far more likely to remember your brand and buy from it in future.
Strategies for encouraging engagement on social media
Share a post using a share v like strategy. Using a striking image, give your audience two simple options to choose from. Get them to share or like the post depending on their preference. This is a great way to boost engagement and get people talking.
Run a poll asking your audience to choose their favourite from four different options. People love to share their opinion so hosting an opinion poll on your page is a surefire way to get people talking and connecting.
Give your audience a sneak peek. Find something your users haven't seen yet and offer a preview of a project, first look at a new product or insight into an upcoming blog post. This creates interest, intrigue and an opportunity for your audience to ask questions.
Share relatable content to get the audience talking. This could be a meme, a question, a story or an observation related to your niche. If you know your audience, you'll already know what they'll relate to and what content will resonate best.
Post when your audience is online and be consistent. Recency is a ranking signal that matters with the algorithm. Newer is better and now is best. Pages that post regularly are more likely to be meaningful to their audience and feature higher in the newsfeed.
Case Study: Walmart
Using the share v like strategy, this post from Walmart has two simple options that make it easy for the audience to engage. The large, enticing images draw attention in the newsfeed and help users to make a decision. Using ice cream in the summer is also a great example of tapping into what their audience wants and may already be thinking about.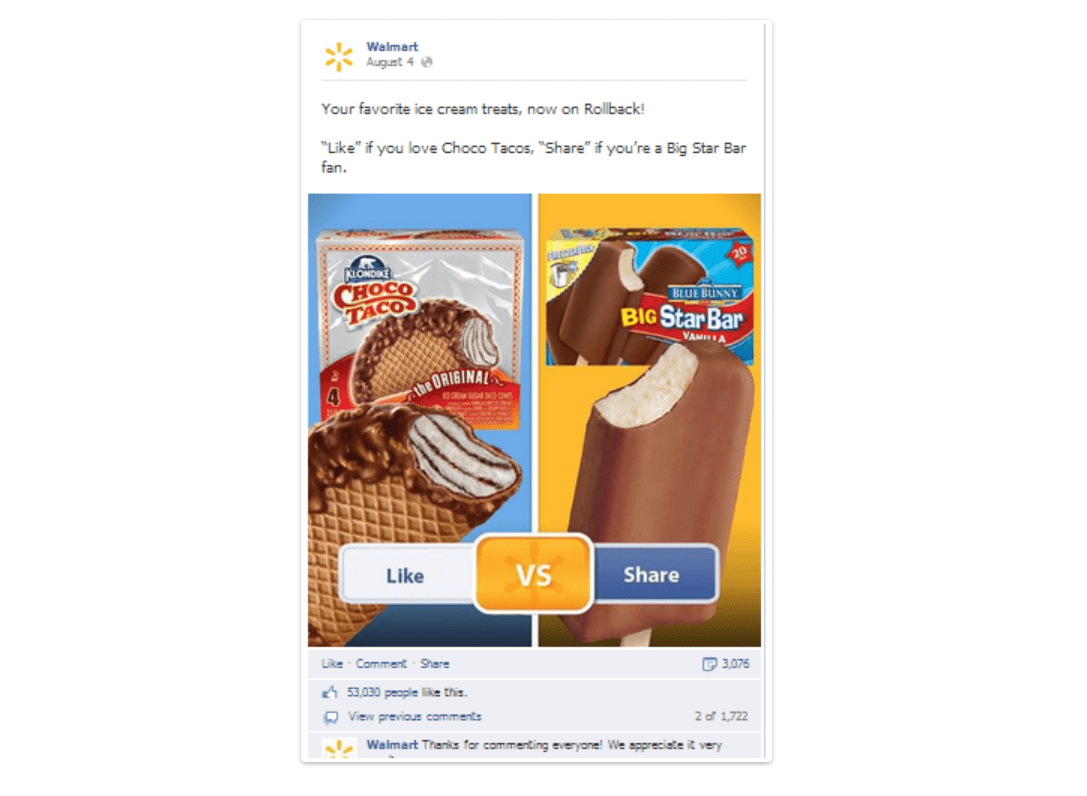 Acquisition
As your customer moves through the sales funnel, it's important to nudge them towards action. But when it comes to social media, you can't just sell to them right off the bat. You need to be social, build relationships and get to know your customer to drive action. Trying to rush your prospects to a sale just doesn't work on social media.
Instead, focus on building trust and creating a relationship by encouraging your customers to take action in ways that feel more natural. Get them to sign up for your newsletter or start a free trial. Offer them a free download or give them a discount on a purchase. Get prospects to subscribe to your free opt-ins and transfer your audience to your email list for lead nurturing
Strategies to increase the chances of acquisition on social media
Monitor relevant Facebook groups for opportunities and potential leads. For example, a construction company could benefit from interacting in a home improvement group full of people looking to remodel and renovate their homes.
Add the Facebook Pixel to your site for retargeted paid advertising campaigns. This is a great way to reconnect with previous buyers or past customers who may have abandoned their cart mid-purchase.
Develop relationships with "prosumers" to increase credibility, build social proof and connect with your audience. Prosumers are influencers and brand advocates who have the power to drive action with your target audience.
Make it easy for prospects to find your website on social media. If people can't get to your site they won't be able to purchase your product or service. Consider including a link tree in your Instagram bio to help them know where to go.
Create a Facebook Shop so customers can buy directly on Facebook and Instagram. It's free and simple. You can choose the products you want to feature from your catalogue and customise the look and feel of the shop to showcase your brand.
Use Instagram Stories to share informational content such as tutorials and behind-the-scenes action. This will engage your audience and bring them closer to your brand. You can also save your stories in categories under your bio for easy access.
Case Study: Glossier
This Manhattan-based beauty startup owes much of their seemingly overnight cult status to their ever-expanding network of super fans and micro-influencers — those people who may have high influence, but low individual reach. Instead of paying a few big names to promote their minimal skincare and cosmetics, the brand relies on "regular women" to spread the word.
"What's very motivating to us is this idea of every single woman being an influencer," Glossier CEO Emily Weiss told Quartz. Glossier recently introduced a referral program to enable its more influential followers to offer product discounts and other incentives to their unique networks.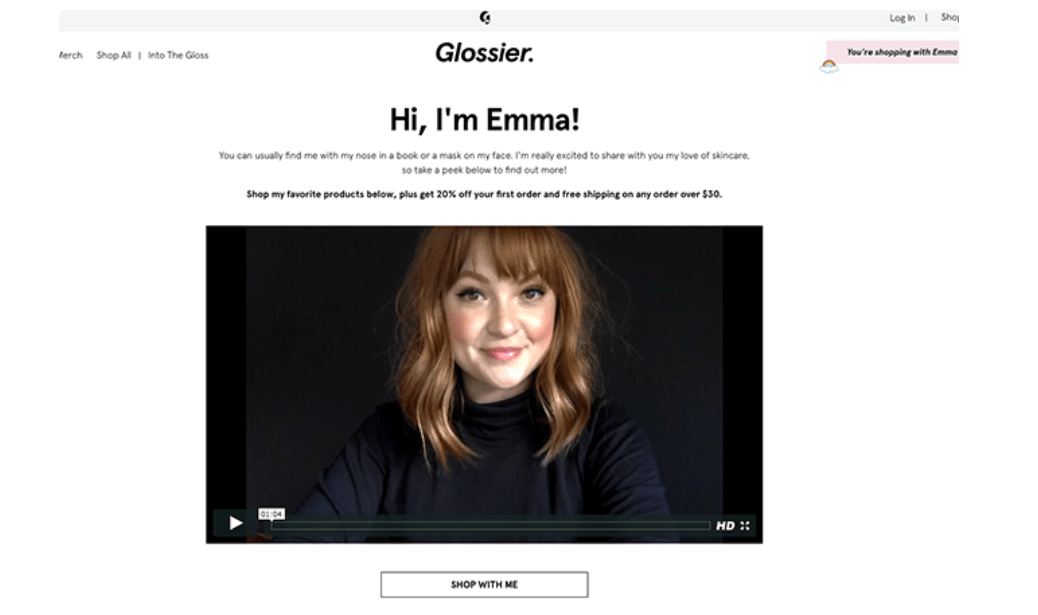 Loyalty
Depending on your industry, retaining a current customer costs you 3 – 10 times less than acquiring a new one. So, once someone has purchased from you step up your marketing efforts to make them a regular customer. This increases their lifetime value, builds an ongoing relationship and creates powerful brand loyalty.
Strategies to build customer loyalty on social media
Encourage customer reviews. Millennials are especially keen to give feedback on your products and services. They also want to be involved in helping you develop new offerings to purchase more from you. So, don't forget to include your customers!
Be responsive. This means taking the time to talk, engage and interact with your customers to show that you value their input and recognise their importance to your brand. It's vital to reply to your customers wherever they talk to you.
Use your social platforms to offer rewards, incentives and discounts. You might set up a separate invitation only page or group for your loyalty members, like Marriott Hotels and their Marriott Bonvoy page. Use this exclusive channel to reward your most loyal fans.
Share your company's fundamental principles to encourage brand loyalty from customers with similar beliefs. Create posts about causes and charities that are close to the heart of your business to show shoppers what your brand stands for.
Use your socials as an opportunity to offer the best customer service. Respond quickly to comments, queries and messages. People will switch brands following a poor customer service experience so don't risk a public backlash on social media!
Private Facebook groups are great for building connections. Creating a one-to-one connection with your advocates will help them feel appreciated and increase the likelihood they will stay engaged and active.
Maintain consistency in both design and voice across all your social media platforms. This strengthens brand recall, develops and maintains a single brand personality, eliminates confusion and engages your customer base.
Case Study: MyChelle Beauty
MyChelle Beauty identified social media as the perfect promotional tool very early on. As soon as their Clean Beauty Club program launched, they shared a bold image on their Instagram account that encouraged customers to join. With eye-catching colour and an enthusiastic caption, they told customers how their program worked and shared their own excitement too.
<span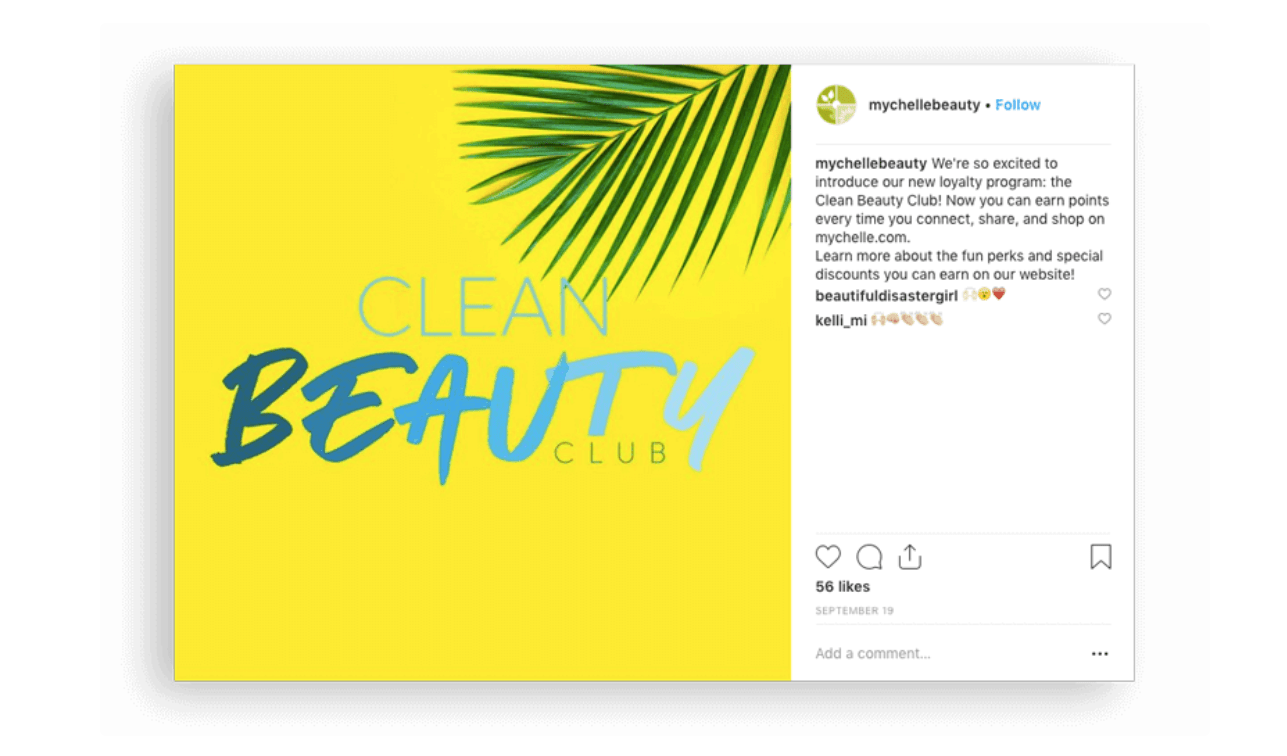 Advocacy
Turning loyal customers into proactive advocates for your business should be the ultimate goal of your sales funnel. People are more likely to trust a brand recommended by their friends than any other form of advertising. In fact, 92% of consumers believe suggestions from friends and family more than advertising, which is a trend that's bound to grow over time.
Strategies for creating loyal brand advocates
Look to your employees for brand advocacy. If you nurture them and support them (just like your customers), they are more likely to speak on your behalf because they'll be personally invested in your business's success.
Word of mouth marketing. We all know that people buy from businesses they know, like and trust. Increasingly, people buy from businesses that are referred to them by their friends. Maybe you should see your customers as your new marketing team!
Tap into the power of both online and word of mouth referrals. Internet reviews, word of mouth referrals, peer recommendations and social media conversations are all examples of human-driven marketing, lending authenticity and trust to your brand.
Share your truth to build advocacy. Be clear on what you stand for and why your advocates should support you. Modelling honesty and transparency in your process and your beliefs will encourage a deeper relationship and convert more fans into advocates.
Give your customers a reason to rave about your offering. Surprise and delight your customers with unexpected freebies, discounts and content they can't help but share with others. This will help spark their transformation from consumer to advocate.
Case Study: Koala
Koala combines clever storytelling with paid advertising to reach more customers with this campaign. They use social media not just as a marketing channel, but rather as a way to interact and share their customers' pain points, providing an 'easy' alternative. This is why it's important to build genuine relationships with your customers and deliver an exceptional experience.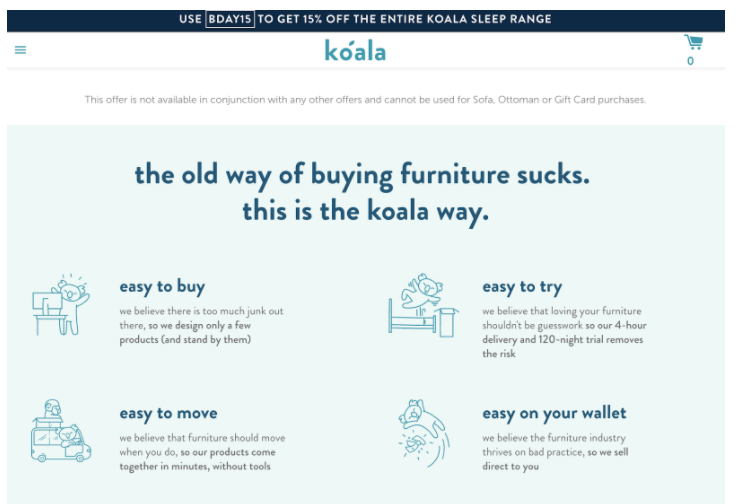 Marketing Sense is here to guide your small business toward marketing success using the power of social media. Give us a call to discuss your needs and download your FREE copy of our Brand Statement Worksheet to get crystal clear on your business, your offering, your audience and your competition.
Free Brand Statement Worksheet
Supercharge your marketing efforts in 2023!